Overview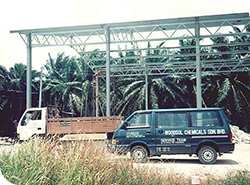 WOODSOL was established in 1991 and is the brainchild of an accomplished Chemical Engineer with vast experiences in the Power Plant, Palm Oil & Petrochemical Industry and other related fields. WOODSOL was created with the aim of promoting organic boiler water treatment when inorganic treatments were found to contribute higher TDS.
With much research and time, WOODSOL developed a versatile chemical product that can tolerate varying ranges of water conditions.
At current standing, the skilled labour force for plant operations in Malaysia has taken a dip in numbers. This organic oxygen scavenging chemical is exceptionally reliable in the case of lack of skilled boiler operators and performs even at low chemical reserve values.
Therefore, WOODSOL takes pride in providing relatively low operating costs, quality technical service and yearly achievement of clean and efficient boilers, cooling towers and water conditions.
Our head offices are located in Klang, Selangor and the manufacturing premises are in Kuala Selangor, Selangor. WOODSOL's products are 100% local concocts of high quality raw materials.
With our vast and long experience in industrial water treatment, we are confident of resolving the water crisis encountered by any industry.
---
Network Solution
WOODSOL believes that when great minds are put together, problems are no longer an issue. That is why we strive to work with the best in the industry, to deliver solutions to you in no time.
Our raw-material suppliers from the United States, Germany, Argentina, Norway, Italy and other countries are multi-divisional groups with a strong presence in both local and select overseas markets. Therefore, our water treatment products are guaranteed to have high quality ingredients.
WOODSOL also engages with other authorities of water treatment, such as ANCO India Chemicals and Maruntech Engineering Services
Backed by decades of expertise in water treatment for both boiler and cooling tower, accurate analysis of plant problems is achieved, with precise solutions and tailor designed products for each application. Through Maruntech Engineering, we are able to provide services such as equipment fabrication, supply of RO plants and other engineering services that support the water treatment field.
---
Mission:

Woodsol Chemicals looks forward to understand our customers' water predicament profoundly, and from that indulgence, we facilitate to eliminate plant operating tribulations by providing comprehensive solutions and world class products.

Vision:

Woodsol Chemicals is determined to be an internationally renowned organization that produces above par water treatment results
---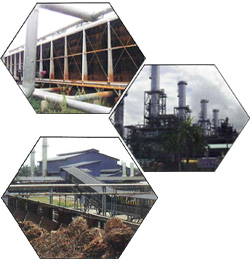 Industries Served
Palm Oil Mill, Refineries and Oleo Chemicals
Power Station Boilers and Cooling Water Towers
Petrochemical Plants
Fertiliser Plants
Steel Mills
Hotels
Timber Industries
Paper Mills
Hospital



---